Estimated reading time- 1'33"
Happy Friday Networkers, and welcome to the FN Blog, the new permanent home to content you would otherwise read in a random email series known as the "Friday Round Up."
If there is a chance you might not finish reading this, scroll straight to the QIC survey link, and then be sure to read the update from Stacy.  As long as you do those two things all else is forgiven.
QIC Recap- HR
For those of you who attended QIC last week, we have some follow-up with the Human Resources Roundtable, hosted by attorney Bill Krizner of the Krizner Group.  We did the hard work for you, and tracked down an answer to the question, "When can we see the dog?"
Meet Caesar Krizner.  Good boy Caesar!
QIC Recap- Micro-aggressions
For those who attended Micro-aggressions 101with Brandi and myself, if you incurred loss or damages due to spitting your beverage into your keyboard due to our staged introduction, we do apologize, but those costs are not chargeable to the contract. Contact me directly and I will replace your beverage personally at the next in-person QIC. The keyboard is probably a write-off.  Shout-out to Angela Patton, Program Manager for Orange County Youth Services. Her look of surprise and  indignation struck fear in my heart.
QIC Recap- Evaluations. Do it. Do it right now.
The final note on the spring QIC (and this may be awkward) but your feedback is our sustenance, and we are so, so hungry right now.  My connection was spotty so I'm not 100% on this, but I'm pretty sure Megan offered to pressure wash your building if all staff from your agency who attended QIC complete this evaluation. We are at 14 out of about 100 so there is a lot of room for improvement.  If you are still reading and this guilt trip was successful, complete the evaluation right now then text #thenetworkworks to me at 850-322-3076. Please identify yourself if your digits may not be in my phone.  Spring 2021 Virtual QIC Evaluation
Big News- It is not easy to write these words, but the revered statesman and  maverick upstart, Jim Pearce, CEO of CDS Family and Behavioral Health based in Gainesville, FL has officially announced he will retire in November of this year.  You can expect much roasting and toasting over the next 6 months as we come to grips with the news.
To quote Dr. Tracy Salem, "Jimbo, say it isn't so." 
It is, in fact, so.  We are using our SNAP to regulate our emotions, and one cool thought is that the next great leader for this venerable organization is out there, and we need you to help find them. CDS Family and Behavioral Heath Services Inc. seeks Executive Leader (gigantic feet preferred.)
And now, on with the updates.
From the desk of Jeniffer Abdullah-
Shout out to our data team across Florida for completing the annual 2019-2020 reconciliation of data between JJIS and NetMIS.
Invoicing changes to NetMIS are upcoming in June. Testing is currently happening, and training is being developed.
Our next monthly report will be extracted on May 10th.
If you need anything in the data world, email jeniffer@floridanetwork.org.
From the desk of Wendy Pierre-McNealy

QIC RECORDING TRAININGS available for 30 days. Training credits have been updated, please contact your Bridge Manager for transcripts.
REMINDER:
BOOKMARK/ADD TO FAVORITE THE CORRECT BRIDGE LINK: https://flnetworklms.bridgeapp.com/learner/library
USER LOGIN IS YOUR EMAIL ADDRESS, CONTACT Wendy Pierre-McNealy for assistance.
NEW TRAINING IN BRIDGE!
BRIDGE MANAGER'S TRAINING 06/01/2021
SNAP LEADS 06/14-06/17/2021
(Let's make this a summer of training!) -jr
Contact Wendy for Bridge assistance and training requests.
850.363.0156 (mobile)
From the desk of Stacy Gromatski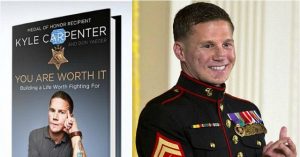 What's on my mind?
"Our work is all about being witness to struggle."
This week I was able to attend a training sponsored by Leadership Florida.  The speaker was Kyle Carpenter, bestselling author of You Are Worth It, Building a Life Worth Fighting For, and the youngest living Medal of Honor recipient.  His story is incredible.
I wish you were able to hear all of his stories, but there is one in particular that I want to share.
At 21, this young man threw himself on a grenade thrown onto his post by a Taliban fighter, saving the life of his friend and fellow Marine.  He was gravely wounded but survived only to spend 3 years in Walter Reed, undergoing over 40 surgeries.  He talked about others at Walter Reed with him, and how some had less injuries but seemed to be having a harder time at recovery, whereas others had more significant wounds but did not seem to be suffering to the same degree. Kyle shared that "Struggle is one thing that should never be compared."
I've been thinking a lot about that.  We struggle, and we are watching the world around us struggle.  I think we do spend time comparing struggles, "He has it better, or I worked harder, or that kid needs to do better", but maybe we can learn from Corporal Carpenter and spend less time comparing and more time understanding.
Just something I'm thinking about. Thanks for listening.
*****************************************************************************************************
That's it!
From all of us at the Network, thanks for making the mission happen every day, and fill out that QIC Survey.
John
Membership Services Director