With the addition of the SNAP program to the Florida Network membership, we opened our family to new organizations that bring their own expertise to the collective Network capacity.  Renée Layman, President and CEO of the Center for Child Counseling may be a new face to many of you, but she and her team have already shared their clinical prowess and therapeutic approach of "playful, healthful, and hopeful" in trainings on Adverse Childhood Experiences, and the true meaning of the catchphrase, Trauma-informed Care.
Self-care is a core belief for this team of sixty-five who are making a profound impact on the mental health of children and families in Palm Beach county.  Word traveled to the FN Blog about Renée's delightful social media presence frequented by a menagerie of non-human counselors and therapists. We had to know, how does Renée practice what she preaches?  Read on to find out!
*Editorial note: to be fair to all 50 animals, we will not be getting to know them by name in today's blog, but I encourage you to ask Renée to introduce you to all of them at our next Network gathering.

Hi Renée,
Thanks for agreeing to let us feature you in the blog.  I love capturing these stories of "what makes a Networker."
Who are all these animal friends you have? And, can I get some photos of the gang?
We have about 50 animals…chickens, ducks, tortoises, cats, dogs, pigs, horses, and my daughter even has pet rats and a tarantula!
How does your home, and your routine there help you recharge and stay grounded?
We live on 5 acres, with a barn and many animals – so it is a lot of work and routine to care for everyone. I have also spent years planting trees and gardens. I wake up early each day to take care of the animals and spend lots of time getting my hands in the dirt, planting. It all keeps me very grounded. I love watching things grow, and I love spending time with my animals. During the pandemic, it really helped me and my family cope, practice self-care, and have a routine – action is the antidote to anxiety, and we get lots of it on our little farm! I've had countless people reach out over the past 15 months to say how much posting pictures and videos of our gardens and animals has meant to them. I love spreading this type of happiness.
What is your earliest memory of wanting to serve others?
I remember being very young, probably beginning around age 4 or so, and my father taking our family during Christmas to deliver groceries to other families who lived on the same island we did in the Bahamas. It is a very strong memory for me, first realizing that not every home had an abundance of food – or gifts under the tree. I think I have taken these early experiences with me throughout my life.
What was your very first job?
Working the cash register in my family's grocery store at age 5! My father always had us work in the family businesses and instilled a strong work ethic.
What was your very first job in the field?
I started in 1993 at South County Mental Health Center in Palm Beach County after earning my Bachelor's Degree in Psychology. I started as a Mental Health Technician in a short term residential program, to see if I liked the field enough to pursue a graduate degree.
Was any one (or more than one) person significant in inspiring you to pursue this path you are on?
One of my first bosses (actually my first in the field at South County), Libi Huey, was this tall, outspoken, independent woman who was such a strong advocate for best practices for the clients we served. She helped form some of my earliest impressions of the field, and continues to be a friend. There have been other amazing people along this career journey, like the founder of our organization, Jane Robinson, who I met over 17 years ago. She is another strong advocate for best practices with children, and has become a mentor and friend.
How has SNAP fit in with your other programs and goals of your organization?
Center for Child Counseling is all about prevention and early intervention! When we first learned about SNAP, we just fell in love with the model, and it fits right into our programs and interventions for children and families. Despite the pandemic, we have developed an incredible team and look forward to continue expanding the work.
Any particular artists or genre that really speak to you, or inspire you when you need a lift?
I love music. Billie Ellish is just amazing – Everything I Wanted, When the Party's Over – she is just so deep for someone so young. My go to playlist in Apple Music when I go walking is Pure Pop, which gets me energized. But, I just love 80s music!
What would you say to your peers out there who struggle to make time for self-care?
It is hard and something I struggle with constantly. In our field of work, there is just so much to do, especially over the past year. My best advice is: Take the time, disconnect. Breathe in the air and sunshine. Get your hands in the dirt. Recognize when you need to take a break. Be kind to yourself.
Helpers and healers have been on the front-lines of this pandemic for the past 15 months, and we need to recognize the toll on our own well-being and mental health, while we have been holding families and communities together. Out of concern for our own staff, we just launched a training for helpers to address compassion fatigue and burnout. We have been fortunate to receive grants to make it available to others in our community: www.centerforchildcounseling.org/healinghealers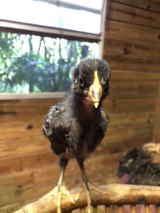 This little one looks meant for big things to me.
Where are you going for vacation? Any big activities planned?
*editorial note: vacation completed by the time this got to print, we hope it was everything you needed it to be!)

South Florida has so much to offer, so in addition to taking care of my animals, walking the beaches, and gardening, we plan to take small day trips to places like Morikami Museum and Japanese Gardens and Frost Museum.
And there you have it.  One of our own living the work surrounded by a supporting cast that keeps her grounded in mind, body, and soul. We are grateful to have the entire team of the Center for Child Counseling, headquartered in Palm Beach Gardens, as part of this incredible thing we do. If you know, then you know.
We wish you all a restful weekend, and as always we thank the weekend and on-call crew for keeping the flame burning while the rest of us recharge.
Now please enjoy some jams that help Renée get her chores done.